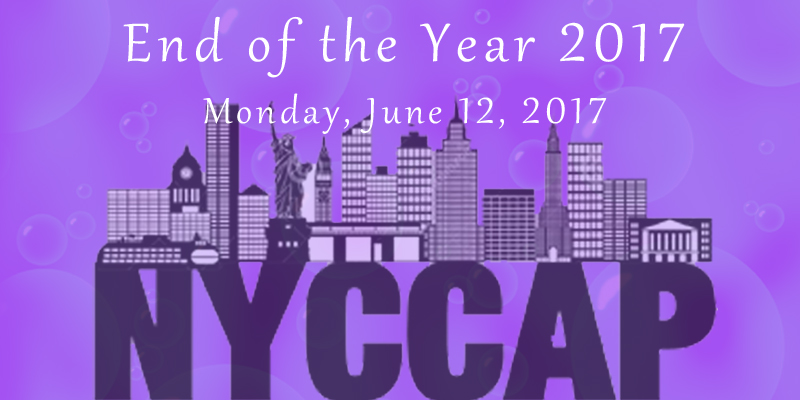 End of the Year Event!
Monday, June 12, 2017, 7:00 - 9:00 p.m.
Location: 99 John Street, 4th Floor Lounge, New York, NY 10038
(between Gold and Clilff Streets)
RSVP (below): Deadline June 10, 2017. Open to all members.
7:00 p.m. Drinks and Dinner
7:45 p.m. President's Welcome
7:50 p.m. Presentation of the Wilfred C. Hulse Award to Gabrielle Shapiro, MD
8:00 p.m. Mix and Mingle
Featuring:
Gabrielle Shapiro, MD




2017 Wilfred C. Hulse Award Recipient

Dr. Shapiro is a Clinical Professor of Psychiatry at The Icahn School of Medicine at Mount Sinai, the Collaborative Care Program Director at The Boriken/East Harlem Health Council, and Consulting Psychiatrist at Union Settlement. She is an active member of AACAP and is a Delegate for AACAP, the Medical Society of the State of New York (MSSNY), and the American Psychiatry Association's (APA) Assembly representing Area 2. She is a Board Member of NYCCAP (since 2007), New York County Psychiatric Society (NYCPS), New York County Medical Society (NYCMS), and a Founding Board Member of the American Academy of Child and Adolescent Psychiatry's (AACAP) Political Action Committee. She was recently elected to the American Psychiatric Foundation Board. She is a passionate advocate for child and adolescent psychiatry, children, and families.

Dr. Shapiro has been active with the U.S. Department of Justice Civil Rights Division, Sexual Treatment and Education Programs (S.T.E.P.S.), the Wraparound Program (B.E.S.T.), telepsychiatry, school programs in New York and California, AACAP Assembly (Secretary-Treasurer), and AACAP's Disaster and Trauma, Development, and Religion and Spirituality Committees. She served as the Editor of the Child Development Chapter of the 2017 Edition of Kaplan and Sadock's "Comprehensive Textbook of Psychiatry" and has given numerous presentations at national and international meetings and conferences and authored many publications.

Dr. Shapiro is an APA and AACAP Distinguished Fellow and received the APA Bruno Lima Award for her work with two mass school shootings in San Diego, California. She is involved in working with youth and families seeking asylum from the trauma in their countries of origin. She is bilingual Spanish speaking and provides therapy in Spanish. She has committed her career to public sector psychiatry and working with immigrants, Native American and Latino children and families to improve the quality of the psychiatric care they receive.
---
RSVP here:
Open to all members